BBC Documentaries - 2014 (Sir David Attenborough - Aired Dec 30, 2015 - Jan 13, 2016); 2012 & 2009.
 In November 2014, I went to my primary field site - Heron Island - to work with Sir David Attenborough on the BBC documentary "David Attenborough's Great Barrier Reef", as his scientific consultant for the segments on the seabirds of the reef. I provided information and found appropriate locations for filming (for both Black noddies and of course my Wedge-tailed shearwaters).
I also performed an interview which is featured along with my data in Chapter 1 on the associated interactive website for the show - 'David Attenborough's Great Barrier Reef' (see my Websites section for links and more info...)
The production will air in the UK beginning with the first episode on December 30th 2015  (1 of 3). 
The shearwaters will be featured on one of the episodes about the Visitors to the Reef. This will be followed shortly after with airing in other countries..
In the meantime check out the the fantastic interactive website...'David Attenborough's Great Barrier Reef' (see my Websites section for links and more info...)
I've aided in a number of previous BBC productions on Heron Island (a popular location for natural history filming!), but this was my first time in front of camera for them. It was obviously a highlight of my career to date, discussing my beloved seabirds with the great man (who is a bit of a fan being a 'birdo' and well-versed in their behavior and life-history), and acting as guide and all-round bird wrangler for filming. Of all the places on the planet he knows, he wanted to return to the GBR and Heron Island...! An exciting honour  and I was thrilled to be involved.
ABC News (Environmental) - aired 7pm June 10 2010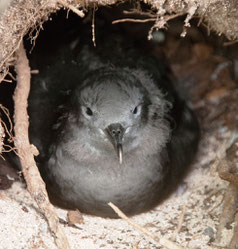 Birds imperiled by changing climate: TV News NSW
A study has found the warming climate makes it more difficult for shearwater migratory birds to find food around Heron Island off the central Queensland coast.
Climate change threatens migratory birds; TV News QLD
Scientists say a lack of food caused by climate change is threatening shearwater long-distance migratory birds on Heron Island off central Queensland.