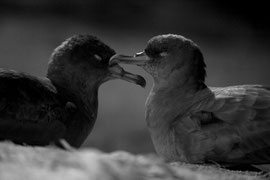 It is my belief that science needs to be widely disseminated to broad audiences if we have any chance of conserving species and protecting the planet. This means we must go beyond scientific publications with their somewhat limited readership, and access the public  through other media. To do this scientific knowledge must be understandable and accessible.
This is a very keen interest of mine and to this end I take every opportunity to speak with people about work Im involved in. I have conducted interviews for magazines and TV including childrens shows and a variety of international documentaries.
Unequivocally, my most exciting venture had me working as seabird/scientific consultant for Sir David Attenborough on the new BBC documentary David Attenborough's Great Barrier Reef. If anyone will ever reach a wide audience it is that great man. This amazing work produced for the BBC by Atlantic Productions, is all about the GBR and I was fortunate enough to provide the story of Heron Island/GBR seabirds, and interview about my particular shearwater population, for the documentary. In addition, they requested and were granted use of my own data for publication on the documentary website and organize the location, information, detail and seabird subjects for Sir Attenborough's pieces to camera. For more information and links see my sections - TV and Websites.