Seabird group involvement/activities
Australasian Seabird Group - State Representative
2015-current: State representative (Queensland)
2012-2015: I took up the position of Student Representative of the Australasian Seabird Group in to liase between student members and the executive committee.
This involved boosting student membership, encouraging student contributions to newsletter, partiipating in committee meetings and contributing articles to newsletter.
World Seabird Union
2013 - current:    Executive Committee member
2016 - current:    Co-chair Conservation committee
2013 - 2016:       Chair of Early Career Scientist committee
ECS representative on board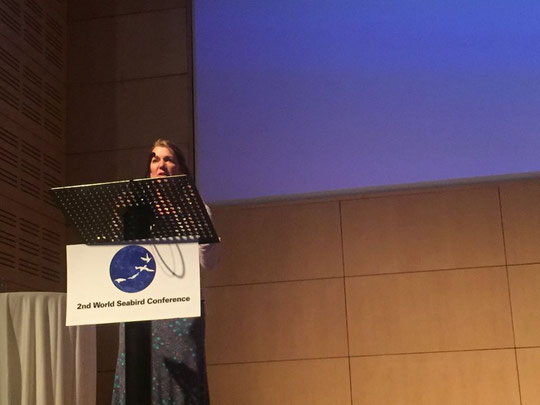 World Seabird Conference WSU2 - Cape Town 2015
Chair of Early Career Scientist (ECS) Committee for World Seabird Conference (WSC2)
Promoting the engagement of early career scientists was a key legacy objective stemming from the inaugural World Seabird Conference and resulted in the formation of the ECS committee and my election as chair.
We spent 2.5 years preparing and conducted numerous highly successful events both leading up to and at the recent  World Seabird Union (WSC2) Conference  held in Cape Town, 26-31 October 2015, for the 220 students and Early Career Scientists that attended.
Events:       'Engaging ECS" Workshop
"Speedy Seabird Social" (or how to obtain jobs and funding for ECS)" - evening 'speed-dating' style dinner event - co-chair & MC.
Conference mentor/guide program
"Meet the Masters" video conference series in lead-up to WSC2.
To summarise events, proceedings and our successes, I addressed the conference with a presentation at the a Closing Plenary session.
Committee members:
Nicola Amer
Amanda Gladics
Sjurdur Hammer
Alex Robbins
Julia Sommerfeld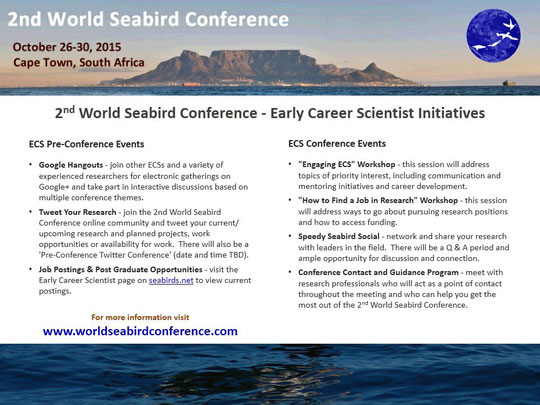 Our various functions, sessions, workshops and events both at and prior to the conference to aimed to benefit the advancement and retention of ECS in the seabird community.
they included:
PRE-CONFERENCE EVENTS:
* Pre-conference Twitter event aimed at those ECSs who will be unable to attend the conference
* Google Hangouts in the 6 months prior to the conference to host Q&A sessions with senior scientists
IN-CONFERENCE EVENTS:
* 'Engaging ECS workshop - Searching for jobs/applying for funding' - Organised in conjunction with John Croxall and the Legacy committee.
* 'Speedy Seabird Social' - a speed-dating style event for ECSs rotate among tables for a 5 minute sit-down, Q&A session with a senior scientist; drinks and nibbles evening event
* Mentor program at the conference to provide points of contact for ECSs who would like introductions to other researchers
We have focused webpages on the global forum Seabirds.net and the WSU2 website