Long-distance migration of Wedge-tailed Shearwaters and interactions with tuna fisheries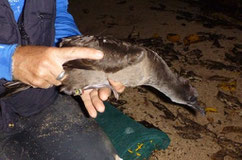 I tracked Wedge-tailed shearwaters - ropical Procellariiformes of the Great Barrier Reef - across three spatial and temporal scales throughout the breeding and non-breeding periods.
Various electronic tracking devices identify foraging grounds and flight paths. Overlaying oceanographic parameters characterise the physical or chemical oceanographic features of foraging areas and identify other influences such as fisheries or environmental factors.
Ambient light level Geolocation devices track the migration routes and overwinter foraging grounds.
From initial tracking studies migratory destinations across the equator may be important to other populations of seabirds. This will be confirmed with further tracking.
Now it is important to quantify the overlap with large tuna schools, the influence of their activity and presence on enhancing foraging for these birds and as such, how important these interactions are in the migratory regions.