PhD Marine Ecology - 'Critical foraging locations and oceanographic relationships for Great Barrier Reef breeding seabirds'
Conferred 7 April 2016.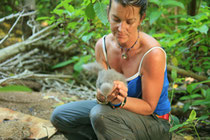 My PhD in Marine Ecology focused on identifying trophic mechanisms that influence food resources to upper level marine predators.
I used tropical breeding seabirds of the Great Barrier Reef (GBR) as my model species due to their accessibility, ease of capture, handling (if you don't mind feisty birds that attack and draw blood often!) and tracking. Seabirds are ideal taxa to sample the otherwise remote marine environment.
* A tropical Procellariiform Wedge-tailed Shearwaters (Ardenna pacifica/Puffinus pacificus)
* Species of Sulidae [Masked (Sula dactylatra) and Brown (Sula leucogaster) boobies]
The primary aim was to determine the environmental mechanisms which regulate the distribution, abundance and availability of prey to pelagic foraging seabirds and thereby influence foraging behaviour and movement patterns.
I accomplished this through examining foraging behaviour and movement patterns, their ecological interactions with the marine environment and characterising critical foraging resources in terms of remotely-sensed oceanographic and environmental parameters across three spatial and temporal scales.
There are two required pieces of information to accomplish this:
Firstly, it was necessary to ascertain the precise locations and physical characteristics of critical foraging resources for these species in both breeding and non-breeding periods. I tracked hundreds of adult foraging birds electronically with GPS, PTT Satellite transmitters and GLS to identify and map flight paths and foraging grounds.
Secondly, oceanographic parameters characterise the physical or chemical oceanographic features of foraging areas. Overlaying these and other data such as presence of fisheries or climatic factors allows characterisation of foraging areas. Oceanographic data is remotely sensed by satellites providing data on oceanic productivity, bathymetry, sea-surface temperatures (SSTs), sea-surface height (SSH), anomalies, the presence of oceanic frontal systems or eddies off the continental shelf, water quality, currents, topographic features etc. I retrieved these data in various file formats (HDF, netCDF, CSV) which I downloaded, formatted, imported, classified, mapped and analysed with ArcGIS, using MGET, GME and Hawth's Tools, and R statistical software.
With these pieces of information I linked these oceanographic and environmental characteristics to exact locations in which my model species foraged and described the mechanisms that influence foraging at all three scales. These are likely broadly relevant to other upper level predators in tropical systems as well as species at other trophic levels.