In the beginning....seabirds
I became involved with seabird research in 2009 on a field study on Heron Island. This began my involvement over the subsequent 6 years in the collection of large datasets for a long-term study of Great Barrier Reef seabirds, headed by Dr Brad Congdon.
These data are being used toward furthering our understanding of trophic relationships of tropical seabirds and management of the GBR.
Aside from concurrently collecting reproductive and biological data toward this project, I also collected vast movement and biological data for my own post-graduate studies focusing primarily on wedge-tailed shearwaters (Ardenna pacifica) and also investigating boobies.
I inevitably developed an avid fondness for working with other nocturnally active creatures like shearwaters and  found field research to be a highly rewarding and exhilarating endeavour and the long hours, remoteness of location challenges of demanding and adverse field conditions only served to heighten the experience.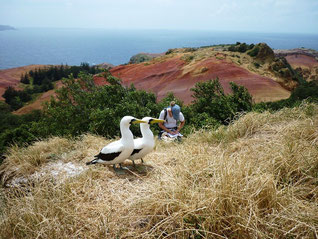 Since that time, as well as my Honours and PhD projects, I have been involved in numerous population and tracking studies of seabirds on various remote, off shore islands:
1. Tracking and analysing foraging behaviour and diet of Tasman boobies (Sula dactylatra tasmani) of Phillip Island, NSW
2. Diet studies and tracking of endangered Gould's petrels on Cabbage Tree Island, NSW, Australia;
3. Tracking and isotope studies of seabirds of the Hauraki Gulf (Mokohinau Islands) New Zealand - Grey-face petrels (Pterodroma macroptera), little shearwaters (Puffinus assimilis), fluttering shearwater (Puffinus gavia), little penguins (Eudyptula minor) and common diving petrels (Pelecanoides urinatrix)
4. Population counts of wedge-tailed shearwaters and black noddies (Anous minutus) of the Capricorn Bunker Group of islands in the Great Barrier Reef.
5. Tracking and diet studies of wedge-tailed shearwaters of NSW.