Bsc. Honours project - 2010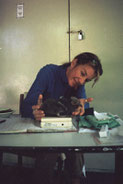 After my unexpected beginning with seabirds, I was so taken with the population, species, their habitat and prevailing ecological questions, that  in the following year, I conducted my own study of this same population for my BSc. Honours project. in which I investigated the evolutionary ecology of the Heron Island shearwater colony and their ability to adapt to rapid changes in their food supplies through a food supplementation experiment. The study examined an important question in seabird biology - how adaptable are seabirds to changes in their marine food resources - such deleterious changes that are expected under various climate-change scenarios. The field project was organised and undertaken by me and included bird handling, monitoring, measuring and banding, tissue sampling and daily food supplementation of chicks.
I found that chicks on Heron Island assimilated food in a different way to chicks on Lord Howe Island when their provisioned meals were augmented. They demonstrated a maximum potential growth rate, potentially limited by adaptation to the poorer resource environment of the tropics or perhaps a result of genetic drift. This work is published in Marine Ecology Progress Series.