About Me
 I am a behavioural and spatial ecologist and passionate conservation scientist with a particular interest in the interactive and cumulative effects of anthropogenic processes such as habitat loss, removal (e.g. fisheries, poaching, collecting), pollution and climate-driven variation on upper predators, migratory and marine taxa.

I have spent the past seven years researching seabirds, and I have worked as a seabird biologist in various locations and with numerous species since 2009. Projects have investigated a variety of topics including spatial and foraging ecology, movement patterns, migration, behaviour, environmental interactions, trophic mechanisms influencing prey availability and behaviour, evolutionary ecology and climate change impacts. Pelagic species are of particular interest for sampling remote oceanic areas which are very difficult to access, and I used large populations of wedge-tailed shearwaters (Ardenna pacifica) on the Great Barrier Reef  (Heron Island. Capricorn Bunker Group) as the model species for my Honours and PhD studies.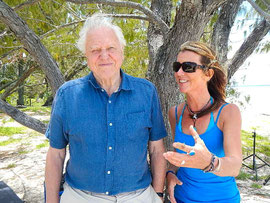 As a result of my extensive research on Heron Island, I worked with Sir David Attenborough as scientific consultant and seabird expert on location at Heron Island in November 2014 for the BBC documentary "David Attenborough's Great Barrier Reef", a role that was ongoing through final production. This was, of course, an incredible experience which enhanced even further, my enthusiasm for broadening the reach of scientific research into the public realm to best benefit global conservation efforts.
Some of my PhD data were presented on the fantastic interactive website, showing the migratory paths taken by my shearwaters upon their departure from Heron Island at the conclusion of the breeding season. Click through this page to the 8th page (the seabird icon) for a graphic of the migration movements of wedge-tailed shearwaters I tracked, and an interview with me about the birds on the subsquent page.....
This site provides information about my past and current research interests, publications and various links relevant to my work. I am very interested in collaborations. More minds create better science so if you are interested in any potential collaborative research, please don't hesitate to contact me or if you have any questions, comments, information or suggestions regarding this site.